Let's Make Sushi!
People have accused me of being closed-minded towards foreign foods. In fact, I have no problem trying new things but, for whatever reason, my tastes are pretty much grounded in the Western tradition. Luckily, fusion style cooking allows me to enjoy the techniques and flavors from all over the world while still retaining elements from close to home.
So I decided recently to try my hand at sushi. I find restaurant sushi to be okay, but I am not that enamored of fishy-tasting things so I douse it in wasabi and soya until it all pretty much tastes the same. And with a price tag of $10 a roll, I usually wind up getting some marinated beef kind of dish instead. The advantage of making it yourself is that you have complete control over the ingredients, and you can generally make it much more cheaply. What follows is my recipe -- my attempt at making this delicacy in such a way that even the most plebeian of palates can appreciate it.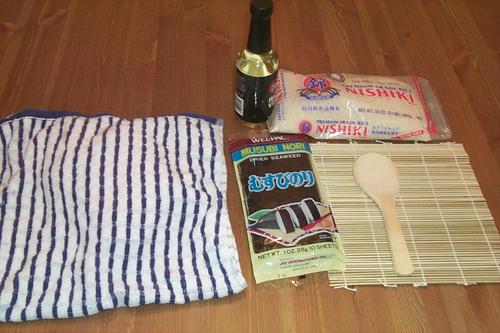 To begin you will need: dried seaweed (nori), rice vinegar, sushi rice, a bamboo mat, a nice sharp knife, and the filling. I'll reveal the secret filling ingredient later in true Iron Chef fashion. As for the rice, Calrose or any other variety of medium grain will do. Personally, as with all of my imported Japanese foodstuffs, I like to buy the ones with cartoon characters on them, like the little rice grain sushi chef on this bag of rice. It makes me smile inside: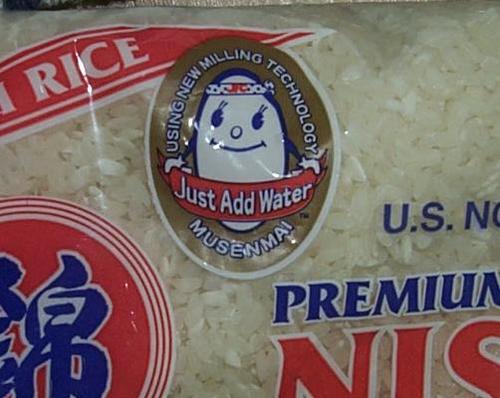 It would also be cool to have one of those badass bandannas like the kind Karate Kid had. In hindsight, Daniel-san was a big wuss, always running from fights, just barely managing to defeat the Cobra Kai who, let's face it, would've beat the tar out of him if it weren't for that magic act that Miyagi did near the end of the movie. But when I was eight, I was always looking for an excuse to use that crane kick. So were you, admit it. Anyway I don't know where to get the bandannas so I managed without one.
Prepare the rice according to the package directions (use a rice cooker if you have one). When it's done, mix it with rice vinegar. The rice should pretty much have the consistency of glue, which makes it really easy to spread, and easy to get stuck to your fingers. Keep a towel handy. Place a sheet of seaweed on the mat, then spread a layer of rice on top of the seaweed.
The Secret Ingredient
Fusion cooking is all about combining the best of two different cultures. What better way to complement Japan's highest culinary art than with the greatest achievement of American technology: cheese-filled hot dogs!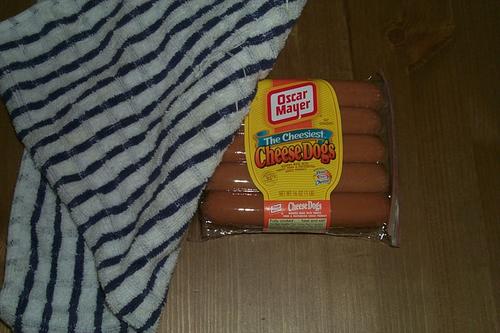 I don't know how they do it, but putting the cheese inside the hot dog has to be the culmination of many years of research from the processed foods industry. I thought it was amazing the first time I saw someone put cheese on the outside of a hot dog; I couldn't even begin to comprehend, then, that there was a laboratory deep in the bowels of a rendering plant somewhere where the leading pig-parts scientists were collaborating with the top in the simulated-cheese-food field to perfect a bachelor's dream.
Throw the dogs on the grill for a few minutes. For each roll, place a cooked dog on top of the rice, and roll it up with the mat. Finally, cut the roll in half, and then again in thirds, discarding end pieces that don't have any of the hot dog.
Plate and enjoy!