Shrill: a Perl-GTK Jukebox
Introduction
Shrill is a kiosk-style digital audio jukebox written in Perl, designed with simplicity and ease-of-use in mind. The application is built as a frontend to mserv, a featureful MP3/OGG/etc playback server. I wrote this frontend specifically to be used in my living room on my HTPC. Shrill is released under the GNU General Public License.

Download now!
View the README.
Features
Albums browsable by album art
Easily navigable by keyboard, and by extension, remote control
Individual track queueing, and random play mode when queue is empty
Supports playback of any format that mserv supports
Screenshots
This is what it looks like: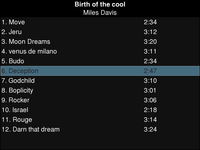 Extra
ogg_meta.pl - All of my music is encoded in Ogg Vorbis format. Mserv's handling of vorbis metadata is pretty poor, so I have included in the distribution a script called ogg_meta.pl, which will create all of the proper files from vorbiscomment data. It requires the Perl module Ogg::Vorbis::Header::PurePerl.
Older releases available here.